Let's Rewind!

Throwback from the Tinkle archives
Tinkle Spotlight
A series where we talk to experts in different fields to guide us about various careers.
Ruskin Bond
In 2012, we were privileged to have a chat with the one and the only Ruskin Bond! Ruskin Bond is an acclaimed writer who has authored numerous stories, novels, essays and articles for children as well as for older readers. His work, originally in English, has been translated into many languages. Nature, animals, children, people and ghosts, all find a place in his writing. He was born in 1934 in Kasauli, and went to a boarding school – Bishop Cotton School in Shimla. After a brief stay in London after his school days, homesickness brought him back to India. He made Mussoorie his home, at the foothills of Himalayas.
Ashwini Falnikar, who interviewed him, had this to say about the experience—I was thrilled when I got an appointment with Mr. Bond. I wondered how it would be to speak with him. Would he be willing to answer all my questions? But on hearing a warm 'hello' from the other side of the phone, the pressure eased, and a wonderful conversation followed.
Let's dive straight in!
Can you describe your day? What is a day in the life of a writer like?
I am 78 years old, so I like to sleep a lot! You don't want to do it when you are young. I try to work regularly; morning time is the best since you are fresh then. I write at least two to three pages a day, either a story or a book or a poem. Then I read something, I take a walk in the evening. I spend about two hours on work everyday.
You have lived in the hills for a large part of your life. Has it been a constant source of inspiration? Did you ever want to travel?
I am an impractical man, I get lost very easily. Once I took a night train to Delhi and woke up in Lucknow. I need someone with me when travelling. Living in the hills means you are close to nature, trees, wild life, I like that. As for inspiration, I like meeting people, they give me stories. When I run out of people, there are ghosts.
You have written much about adolescence e.g. in Room on the Roof and A Flight Of Pigeons. What draws you to this topic?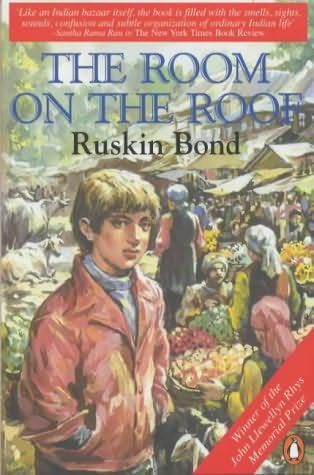 I wrote Room on the Roof when I was 17. So it was a story by an adolescent for adolescents. Also much of my writing is autobiographical. I had a lonely childhood. I lost my father when I was ten; I had to adjust to a step father. I had to spend a lot of time with myself, so I understand children well. A Flight of Pigeons is historical. I wrote it in my twenties, and in that age you are very romantic. So it is a romantic story.
What do you like about writing for children?
I didn't write for children until I was 40. I wrote a story, Angry River which was printed by a publisher in England; it had a theme that would appeal to children. It is nice to have children respond to my stories. They are frank and truthful. Recently a little girl told me that she likes my ghost stories, but they are not frightening enough. I told her that I will try to write scary stories. At another school I visited, the teacher asked the students what they thought of Bond as a writer. A girl replied, 'Sir, you are not bad'.
Tell us something about your experience in the boarding school. How did it affect your work?

I didn't have much say about going to the boarding school. If I had a choice, I wouldn't have gone to school at all. But at the boarding school, I enjoyed some things and disliked some others. Everything was compulsory. But I made good friends. My school had a very good library. It wasn't easy to get books in smaller towns back then. So the school library helped and I became a book worm at an early age. A lot of children don't read books. Even in my childhood it was a minority pass time. But it is good if you read, because then you won't be lonely, you always have a book for friend, it sets your mind free.

Do you read all the fan-mails and reply to all?

I read everything, but I don't reply to all. I don't use email, so I give them my phone number and we chat. In holiday season, some knock at my door. If they disturb me in the afternoons, I get grumpy. I go to a local bookshop and make friends. But writing is a lonely art. You have to get on with it without human company.

What was the most touching thing your fan has ever told you?

The other day I received a letter from a 78-year-old man from Manipal. When he read Room on the Roof, he was seventeen. He said he learnt reading English through this book. I get many letters from youngsters who want to write. Earlier it was difficult to make a living as a writer. But today, it is fashionable because you become a mini-celebrity, you get recognized, there is certainly glamour. Fifty years ago it was different. My mother used to say, 'Don't waste your time Ruskin'.


What are your upcoming projects?

Kashmiri Storyteller is a collection of short stories. Adventures of Rusty is going to be an omnibus volume. A recent publication was Secrets, a collection of short stories. I am writing my autobiography.

Are you familiar with Tinkle?

Yes, I have read Tinkle over the years. How long has it been around now?

Thirty years.

That is great. Amar Chitra Katha is doing some of my stories in comics.
Where do you feel most at peace?

The room in which I currently am. It is a study-cum-bedroom. In winter it is warm and in summer, it is not too sunny, it is cool. I open the windows and birds come in. The other day, a monkey came and sat on my bed. I had to call for help to get it out.

Any message for our readers?

Keep reading, the more you read, the better you will write. And if you can write well, you will do well in any profession, whether you are a doctor or an engineer or a businessman.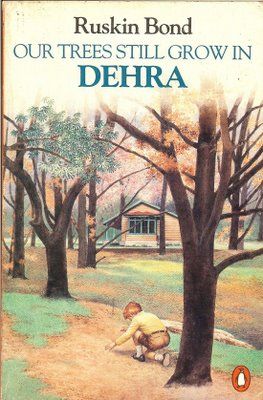 Rapid Fire
Favourite food: Hot buttered toast
Favourite movies: Good comedies like Laurel and Hardy
Favourite books: All kinds—classics, detective stories, histories
Favourite kind of music: Folk music from any part of the world, because it reflects the character of the people

It was an honour to speak with you, sir. Thank you for sparing the time for our readers.